One immensely important issue in education to date is the use of standardized tests enacted by the
No Child Left Behind Act
. The act was passed in 2001 by President George W. Bush, and has reformed the education system greatly. The act has put more emphasis on what it takes to be considered a "highly qualified teacher" and incorporated standardized testing as a way to test students' knowledge. While some praise the No Child Left Behind Act, there is also a great deal of
criticism
about it.
First of all, No Child Left Behind Act's standardized testing is a damaging asset rather than beneficial, because it restricts students' education instead of improving; just the opposite of what the purpose is suppose to be. The reason for this is that because of standardized testing teachers have transformed their style of teaching to "teach to the test" rather than teach kids the curriculum of the course. Teachers will spend the entire class teaching kids how to pass the test, instead of helping them develop critical thinking skills and understanding concepts to master the material. This creates students who just spit out the information they learned like robots, rather than making them problem-solvers and more educated people. Also, the test focuses strictly on the core subjects (math, reading, writing, etc.) and completely disregards the arts. Not all students excel in the core subjects, but are more in tuned with the arts. So does not fitting the model make one student more incompetent than another?
Standardized testing doesn't just hurt students either, it hurts teachers. Standardized tests are ways to reflect how well a teacher is doing his/her job. However, this is extremely unfair because one teacher wouldn't be responsible for a student's entire education. Conversely, multiple people would be involved including previous teachers, parents, and even the student his/herself.

Here is a quick video that perfectly summarizes how critics of standardized test feel:
There are a lot of larger implications that can occur if the issue of using standardized tests to determine the intelligence of student is ignored. As explained in this
article
, standardized tests could cause separation of students in a school district in order to improve the school's test score as a whole. For example, the school could remove kids they think might perform poorly, such as the "developmentally disabled" and English as Second Language students, from having to take the test to ensure a high test score average. In addition, the test could produce self-doubt by labeling a student's intelligence. Some students are just better test takers than others, and being able to get proficient on a standardized test doesn't prove whether someone is more intelligent, it simply determines who is a better test taker. Lastly, the tests put a tremendous amount of stress on teachers. Teacher's jobs are threatened by the performance of their students, solely based on one test. This could lead to the firing of many excellent educators because some students couldn't answer all the questions in a specific amount of time, not because they didn't know how to answer the questions. Overall, standardized test aren't helpful or necessary, the effects are more hurtful.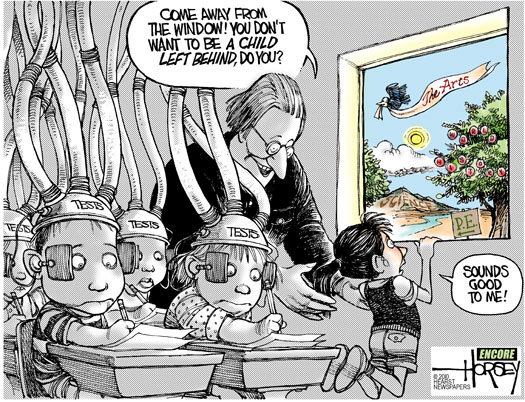 A cartoon depicting what standardized testing considers important.